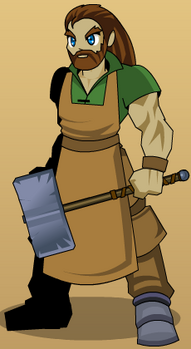 Description: "Greetings Adventurer, and welcome to my Inn. Our town has sure been attracting a lot of visitors recently! If you find yourself in need of a blace to stay while you visit, or are looking to purchase some new weapons or armor, then this is the place you want to be!"
Location: The Inn in Battleon.
See Yulgar's Shop
He also makes Enhancements to Designs to turn them into usable items or on weapons to make them stronger.
If you're looking for new weapons, I've run into a bit of a problem. General Porkon at his Hork Fort sold me a shipment of substandard ore, and It's not usable for weapons. If you want Pots? Fine. But a sword? Nope. He says that no Adventurer has ever beat him - Go over there and show him he's wrong! Then bring me back his pride...I'll be out the ore, but that'll go a long way to making me feel better. (Return to Yulgar in the Battleon Inn with Porkon's Pride.)
Items required: Porkon's Pride x1
Well met, Adventurer! I need some very special things to forge a weapon that I've been working on for some time. Zorbak has been hoarding the miniature Skulls that I need to forge the blade of the Bone Sword. If you bring me 8 small skulls, I'll reward you with the Bone Sword. (Get Small Skulls from Zorbak in Battleon for doing his Quests. Bring 8 to Yulgar in the Battleon Inn.)
Items required:Small Skull x8
Well met adventurer! Looking for some work? The inn basement needs a little cleaning before the Swordhaven health inspector gets here. Bring me 8 rat ears to prove that the basement is clear and I will give you a nice tip. Lets keep this on the down low, alright? (Return to Yulgar in the Battleon Inn with the Rats Ears.)
Items required: Rat Ear x8
Rewards: 100 gold, 100 xp
Ad blocker interference detected!
Wikia is a free-to-use site that makes money from advertising. We have a modified experience for viewers using ad blockers

Wikia is not accessible if you've made further modifications. Remove the custom ad blocker rule(s) and the page will load as expected.