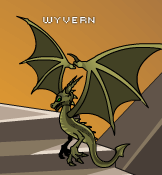 Wyvern is a monster in AdventureQuest Worlds.
Location: Northpointe City
Level: 25
HP: 3,768
MP: 100
Location: Northpoint City
Level: 50
HP: 17,358
MP: 100
The Wyverns at Northpointe City are recolored monster versions of the Battle Wyvern pet. The Level 50 versions are found in the buildings in Northpointe City.