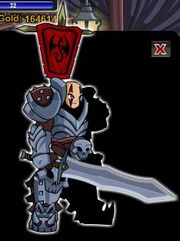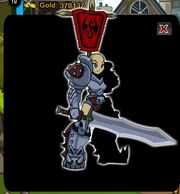 Description: The Warlord class is the advanced version of the Warrior class. It can be Obtained by completing the Warrior Training quests in Battleon.It costs 5,000 gold in the warrior trainer's upgrade shop.
Skills

Auto-Attack. Default Skill. Continuous attack until player or monster is dead.
Costs: None.
Cooldown: None.

Decisive Strike. Default Skill. Deals 150% damage. Costs 4 MP.
Costs: 4 MP.
Cooldown: 6 Seconds.

Imbalancing Strike. Acquired at Warrior Rank 2. This can cause your opponent to not attack in their next turn. Costs 6 MP.
Costs: 6 MP.
Cooldown: 10 Seconds.
Prepared Strike. Acquired at Warrior Rank 4. Sacrifice one Auto-Attack to attack with a guaranteed critical hit. Costs 4 MP.
Costs: 4 MP.
Cooldown: 6 Seconds.
On Guard. Acquired at Warrior Rank 8. Challenge your opponent, dealing 75% normal damage, and taking 50% damage from all sources for 12 seconds. costs 10 MP.
Costs: 10 MP.
Cooldown: 1 Minute.
Passive Abilities
At rank 6, Warriors will gain 5 MP every time they land a critical hit.
At rank 9, Warriors will gain 1 MP every time they take damage.
Ad blocker interference detected!
Wikia is a free-to-use site that makes money from advertising. We have a modified experience for viewers using ad blockers

Wikia is not accessible if you've made further modifications. Remove the custom ad blocker rule(s) and the page will load as expected.