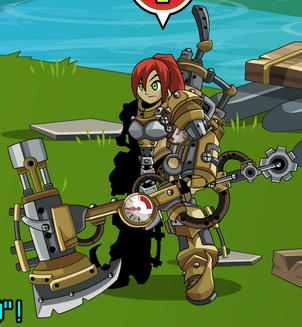 Tarvarya is a lady that stands at the entrance to the Crash Site area. She apparently has lived in this area (or at least near here) since childhood, as said in the description for Dam Balloons. She is dressed in ProtoSartorium Armour and wields a Piston-Driven Chopper.
Dialogue: The Dwakel are really advancing in their use of technology! This particular group is barely using magic at all anymore, relying mostly on science! Where they are learning it, I have no idea! Their experimental ship crashed, and the Dwakels are harvesting the forest and pumping the water to power up the ship again and free it from a trench. They don't care about the forest or who gets in their way. Bad Dwakel, bad!
This armor, I took it from one of the Dwakels, pretty nifty, huh...
Ad blocker interference detected!
Wikia is a free-to-use site that makes money from advertising. We have a modified experience for viewers using ad blockers

Wikia is not accessible if you've made further modifications. Remove the custom ad blocker rule(s) and the page will load as expected.