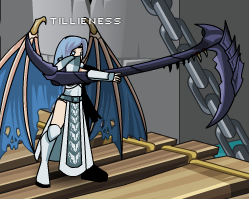 Description: "This weapon was crafted from the Shadow Serpent you defeated."
How to acquire: Created with weapon Design dropped by Shadow Serpent.
Sell Value: 5000 gold.
Type: Polearm
Level/Damage:
1/18-22
2/26-32
3/32-39
4/36-44
5/41-50
6/45-54
7/48-59
8/51-63
9/54-66
10/57-70
11 /60-73
?? / ??-??
Ad blocker interference detected!
Wikia is a free-to-use site that makes money from advertising. We have a modified experience for viewers using ad blockers

Wikia is not accessible if you've made further modifications. Remove the custom ad blocker rule(s) and the page will load as expected.