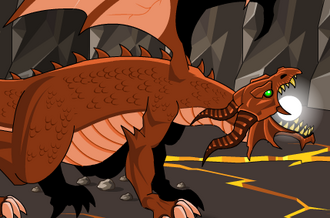 The Red Dragon is a species of dragon that is found in AdventureQuest Worlds.
Bio
The Red Dragon that is found in Vasalkar Lair is actually called Vasalkar.
During the Darkovia part of the 13 Lords of Chaos storyline, Chaos Wolfwing's Werepyres managed to obtain a Red Dragon which Wolfwing bites on the Mystic Wolf Moon transforming it into the Dracowerepyre.
A later midweek release at Vasalkar Lair revealed that Vasalkar had a mate in the form of the Onyx Lava Dragon.
Stats
Drops
Quest Item Drops
See also