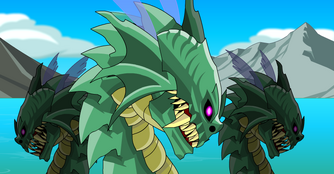 The Lake Hydra is a monster in AdventureQuest Worlds.
The Lake Hydra is a multi-headed monster that is the first of the Chaos Beasts. It was imprisoned within a lake near Mobius until it was released by Escherion using the Runix Cube. When one head was defeated, another head took it's place. The players managed to defeat it by using it's fangs to break the rocks holding up Escherion's tower. Thus, the tower crushed it.
Level: 10
Location: Hydra Lake in Chiral Valley
HP: 2,445
MP: 100
Ad blocker interference detected!
Wikia is a free-to-use site that makes money from advertising. We have a modified experience for viewers using ad blockers

Wikia is not accessible if you've made further modifications. Remove the custom ad blocker rule(s) and the page will load as expected.