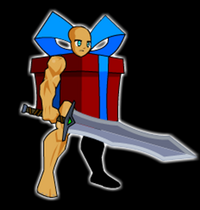 Description: "Happy Frostval 2008"
How to acquire: You get at the bag of gifts in Battleon, and its free
Sell Value: 0 gold.
Notes: Giftbox is a piece of clothing "Armor" from the Holiday Event 2008 Christmas.
Skills

Auto-Attack. Continuous attack until player or monster is dead.
2nd generation
It magically opens on New Year 2009 and reveals a ClawSuit.
Ad blocker interference detected!
Wikia is a free-to-use site that makes money from advertising. We have a modified experience for viewers using ad blockers

Wikia is not accessible if you've made further modifications. Remove the custom ad blocker rule(s) and the page will load as expected.