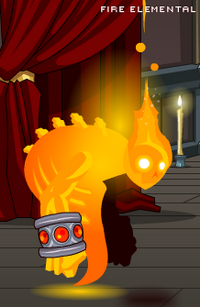 Fire Elemental is a monster in AdventureQuest Worlds.
Location: Bludrut Keep Basement (Lvl. 1), Pollution
Level: 9
HP: 1,921
MP: 30
Gold: 55
Location: Dragon Plane, Fire House, Fire, Ruins of Great Gilead
Level: 25
HP: 3,780
MP: 100
Location: AQ Lesson, DQ Lesson
Level: 30
HP: 3,482
MP: 100
Location: Fable Forest
Level: 40
HP: 4,923
MP: 100
Ornate Platinum Impalers
Short Black Time Conductor
The Fire Elemental at Level 40 is based on the Fire Elemental design that was seen in DragonFable.
Ad blocker interference detected!
Wikia is a free-to-use site that makes money from advertising. We have a modified experience for viewers using ad blockers

Wikia is not accessible if you've made further modifications. Remove the custom ad blocker rule(s) and the page will load as expected.