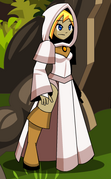 Welcome adventurer to the land of Lore! Lore is a land full of myths and legends come alive, where mystery and adventure await you at every turn. We are in need of the help of adventurers such as you to keep the forces of darkness at bay, and help to free people from the threat of evil. Let me serve as your guide to this exciting new world, and welcome you one again to the land of LORE!
Cleric Joy is the first NPC that we see in the game overlooking the town of Battleon. She keeps us on task by keeping track of where we are in the storyline. Cleric is a member of the Sisterhood of the Dishpan Hands.
Ad blocker interference detected!
Wikia is a free-to-use site that makes money from advertising. We have a modified experience for viewers using ad blockers

Wikia is not accessible if you've made further modifications. Remove the custom ad blocker rule(s) and the page will load as expected.