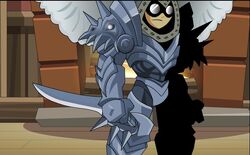 Description: "This dagger is usually used by rogues and thugs. It has metal spikes that cover the first like brass knuckles. The dagger is held backwards to conceal the blade."
How to acquire: Can be bought from Yulgar's Shop for 45,000 gold.
Sell Value: 1,1250 gold.
Type: Dagger
Level / Damage:
Ad blocker interference detected!
Wikia is a free-to-use site that makes money from advertising. We have a modified experience for viewers using ad blockers

Wikia is not accessible if you've made further modifications. Remove the custom ad blocker rule(s) and the page will load as expected.